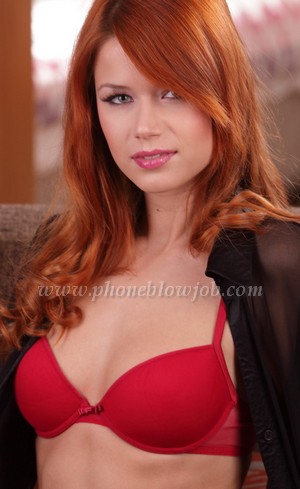 A lot of my phone blowjob callers ask me about my favorite blowjob techniques.   It's fun to tell you guys what I like to do and have you tell me the things you like too.  I'm always happy to learn some new sexy moves!  Because giving a great blowjob and having a man cum into my mouth is almost orgasmic for me.  The best blowjob is one where my guy can't even warn me he's about to cum because I've put him almost into a sex coma from the ecstasy I'm giving him.
I don't want to post specifics about my favorite techniques here —  it wouldn't be smart to give away all my best sexy secrets in public, would it? :)  — but I can say that I think  there are a few things that are essential for a great blowjob:  suction, great tongue action, and a nice, firm grip on his cock.
Suction may be the most important part of a great blowjob and it's what men seem to appreciate the most.  Even if it's just the tip of his cock in my mouth, I want him to feel me sucking in my lips and forming a nice vacuum around it.  Some sexy, titillating tongue action is important too and it's even more effective if I look up into his eyes while I do it.  I keep a firm grip on his cock too, squeezing, stroking and caressing it while my mouth works its magic.  All the while, I'm listening to the sounds he makes and watching his reactions to every move I make so I can be sure to give him as much as he can take of whatever he likes most.
Can you tell how much I love to suck cock? Maybe I can't actually put your cock in my mouth but call me for blowjob phone sex and I promise you that it will almost feel like I have.